Eva Zoerhof,
Sr. Staffing Coordinator, Temporary Division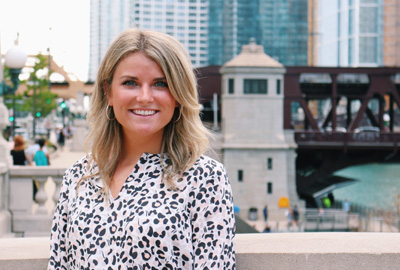 Eva is originally from Northern Michigan, where she grew up on the lake. She graduated from the University of Michigan in 2018 and moved to Chicago to pursue a sales career.
Initially, Eva connected with TLG as a candidate but was offered the opportunity to join the team permanently. The process gave her such an appreciation for staffing and working with candidates to expand upon their careers—it was a perfect match.
Outside of the office, Eva loves to spend time with friends and family exploring Chicago, boating on Lake Michigan, and playing tennis.
Ask Eva about her first six months as a recruiter.
Random Fun Facts About Eva
First Job: Making candy at a fudge shop
Theme Song: Dreams by Fleetwood Mac
Favorite Childhood Memory: Going on boating trips with my family to Canada
Favorite Place to Travel: Out west in Colorado
What I enjoy most about working at The Larko Group: Working with motivated colleagues who are, similarly to me, passionate about helping people