Abbey Maloney,
Career Consultant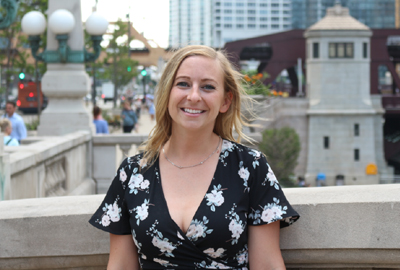 Abbey graduated from The University of Iowa in 2016 with a degree in Fine Art and a minor in psychology. After working in the south suburbs as a program director for a non-profit organization, she was looking to relocate to the heart of Chicago. As fate would have it, The Larko Group was looking to add a new member to their team!
Abbey was initially recruited to interview for external positions, but upon meeting the team, was asked to apply for The Larko Group internally. After witnessing TLG's candidate experience first-hand, Abbey knew she wanted to be part of the team that had left her feeling excited and hopeful about the future, and help other candidates feel the same way.
Abbey is a people person who is dedicated to working hard and helping others. She has a mean sweet tooth and a passion for the arts. Away from the office, Abbey likes to spend her time playing with her pup, Ollie, and eating her way through Chicago's best pizza places.
Ask Abbey about her safari adventures in Zimbabwe!
Random Fun Facts About Abbey
First Job: Working behind the bakery counter at a local grocery store
Theme Song: Seeing Stars by BORNS
Favorite Childhood Memory: Long days spent at summer camps with friends
Favorite Place to Travel: Florence, Italy
What I enjoy most about working at The Larko Group: The opportunity to not only help completely change a person's career but create lasting relationships with so many people!